Hello All,
Over the first weekend in October 2021, I and two friends will be taking part in the 27th Club Triumph Round Britain Reliability Run
The event, which was originally scheduled to run in October 2020 (I'm sure you can guess why it was delayed a year), once again involves a 2000 mile drive around Great Britain in a classic Triumph motor car, all in 48 hours, pretty much non-stop except for food/fuel breaks!
Once again, we will be (hopefully) completing the run in Andy's rather special Triumph Stag saloon (only a handful were made and its the only one of its kind left on the road).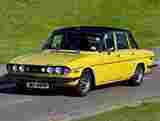 The car is older than me, and probably in better condition!
This year, the chosen charity is the
Motor Neurone Disease Association
So perhaps if you were thinking of donating to XMBC (or even if you weren't) you might consider
sponsoring us instead
The past events, three and five years ago, kind donations from XMBC users made a big difference to our fundraising total for the guide dogs charity (in 2016) and Epilepsy UK (in 2018) - we were frankly blown away by the number of donations.
If you choose to donate, be sure to leave a comment (on the
Just Giving sponsorship form
) mentioning XMBC so I can see how many donations are as a result of you good XMBC users. Don't forget UK tax payers can also claim Gift Aid to maximize the funds (the government contributes the tax equivalent) but please don't tick that option if you are not a UK tax payer!
Regards,
Phil